NYTS Sponsors the Fifth Annual Rev. Dr. Lonnie McLeod Symposim – Nov 6-7, 2015
Rehabilitation from the Inside Out:
Faith-Based Initiatives and the Crisis of Incarceration
For further information or to register, please visit mcleod2015.eventbrite.com
Rehabilitation from the Inside Out: Faith – Based Initiatives and the Crisis of Incarceration is the Fifth Annual Symposium designed to assist faith congregations to expand their prison ministry using the Healing Communities USA model. The Symposium will open on Friday evening with a worship service and continue through Saturday with panel presentations, workshops and a lunch-time keynote speaker.
This year the Symposium will explore a number of programs and perspectives on rehabilitation and reentry that are taking place within the correctional system and are being carried out by formerly incarcerated citizens now living beyond the prison walls.
What can faith-based communities do to help address the crisis of incarceration and over-incarceration in America?
The Symposium is sponsored by Healing Communities Network, New York Theological Seminary, Riverside Church Prison Ministry, United Methodist General Board of Global Ministries, Exodus Transitional Community and others.
For further information, please contact Jackie McLeod at
Jacqueline1943@aol.com or 201-960-2205.
---
About Rev. Dr Lonnie McLeod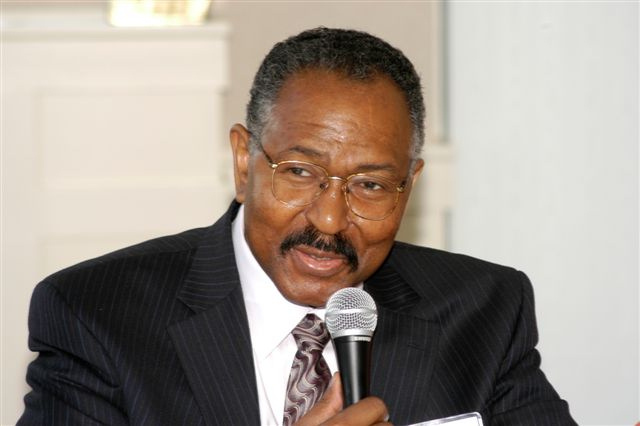 Rev. Dr. Lonnie McLeod, Jr.
Apr. 4, 1948 – Oct. 25, 2009
Thousands of people – friends, family and mere strangers have been inspired by the words of Rev. Dr. Lonnie McLeod, Jr. He lifted spirits, spearheaded growth and changed lives.
He touched the lives of so many people especially when he lectured on personal responsibility for achievement. His powerful soul searching presentation uplifted people to a higher standard – to a level where people strive only for the best.
Lonnie was an accomplished public speaker, a counselor to emotionally challenged youth and a social and criminal justice activist. He was called on to aid in the development and implementation of criminal justice and social programs at the local, national and international level.
Lonnie is missed by his family and friends.